AUSTIN— Today, as the Texas House prepares to debate taxpayer-funded lobbying, the Texas Public Policy Foundation took this opportunity to remind lawmakers exactly where Texans stand on the issue. Starting at 11 a.m., an airplane flew over the Texas Capitol with the TPPF-sponsored message: TEX OPPOSES TAX-FUNDED LOBBYING.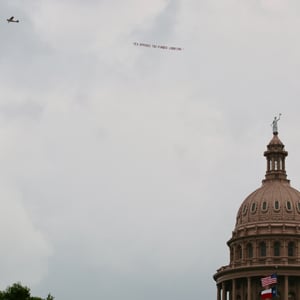 Recent polling shows that 91 percent of Texans oppose using tax dollars to pay for lobbying, with 80 percent strongly opposed to it.
"The writing is on the wall and now in the sky," said Kevin Roberts, executive director of the Texas Public Policy Foundation. "Recent polling shows more than 90 percent of Texans oppose tax-payer funded lobbying. Now is the time for the Legislature to end this practice which leads to taxpayer dollars being used against their own interests."
SB 29 prohibits the use of public money by certain political subdivisions for specific lobbying activities and requires the disclosure of amounts spent by these entities on lobbying activities.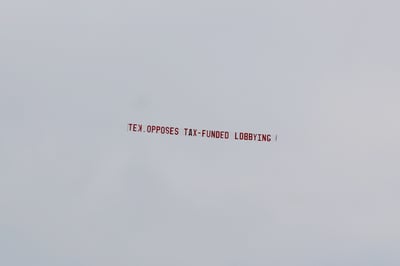 The debate is especially timely as lawmakers continue to consider topics in which taxpayer-funded lobbying is especially concerning.
"Not many people know about taxpayer-funded lobbying, but everyone is affected by it. Local governments use public money to lobby for more public money which, of course, leads to bigger government, higher taxes, and less liberty. This anti-taxpayer practice is fueling a big government agenda and it needs to stop," said Think Local Liberty's James Quintero.