Event
May 15, 2015
8:00 am - 9:30 am
Conservatarian Manifesto Book Signing
Austin, TX
Friday, May 15, 2015
8:00 am - 9:30 am
TPPF Liberty Cafe
901 Congress Ave.
6th Floor
Texas Public Policy Foundation
and
The National Review Institute
present
"The Conservatarian Manifesto"




a Book Talk and Signing with Charles C. W. Cooke


Libertarians, Conservatives, and the Fight for the Right's Future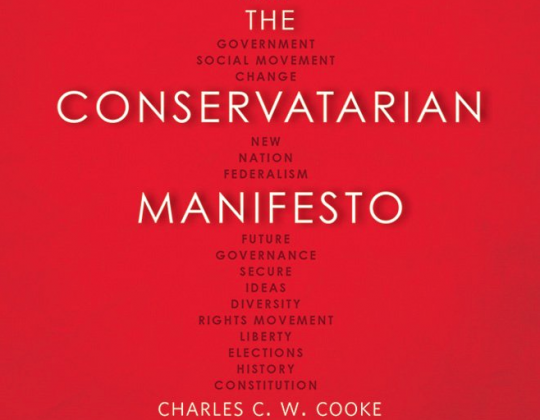 There is an underserved movement budding among conservatives, in which fiscal responsibility, Constitutional fidelity, and limited government remain crucial tenets, and social issues are approached with a libertarian bent.
In The Conservatarian Manifesto, Charles C.W. Cooke engages with the data and the philosophy behind this movement, presenting conservatarianism as a force to be reckoned with in years to come.
Friday, May 15, 2015
8:00 am – 9:30 am
TPPF | Liberty Cafe | 6th Floor
901 Congress Ave.
Austin, Texas 78701
Complimentary Breakfast!
Pre-order your copy of The Conservatarian Manifesto in advance of Charles C. W. Cooke's talk.
CLICK HERE TO PRE-ORDER
Books will be available for pick up at the event on May 15. If you cannot attend the event and would like a signed copy, we're happy to have a book signed on your behalf and mail it to you after the event.
About the author:
CHARLES C.W. COOKE is a writer at National Review and a graduate of the University of Oxford, at which he studied modern history and politics. His work has focused especially on Anglo-American history, British liberty, free speech, the Second Amendment, and American exceptionalism. Charles is the cohost of the Mad Dogs and Englishmen podcast, and has broadcast for HBO (Real Time with Bill Maher), BBC, MSNBC, Fox News, The Blaze, CNBC, CTV, ABC, Sun News, and CBS. In addition to National Review, his writing has also been published by the National Interest, the Washington Times, and the New York Post.
Questions? Contact Shannon Tracy [email protected]